Quang Chau Industrial Park overview
Developer: Saigon – Bac Giang Industrial Park Joint Stock Company
Address: Quang Chau Industrial Park, Viet Yen District, Bac Giang Province
Phone: 0204 3868888
Quang Chau Industrial Park was approved by Prime Minister to be constructed on April 26, 2006, by Saigon-Bac Giang Industrial Park joint stock company. With an area of ​​426 hectares, it is one of the largest industrial zones in the northern area, consisting of industrial zones – urban area – amusement parks and services.
Quang Chau Industrial Park is situated at a convenient location: 33km from Hanoi, 125 km from Huu Nghi Border Gate (Lang Son), 33km from Noi Bai airport, 110 km from Hai Phong port, 115km from Cai Lan deep-water seaport (Quang Ninh). It is also close to the Hanoi – Quang Ninh, HCMC – Hanoi – Yunnan (China) railway lines, and next to the Cau River Port. The transportation system is relatively convenient in terms of waterways, roads and railways. With this advantage, Quang Chau Industrial Park acts as the goods circulation center.
Land area: Covering the land area of 426 hectares including a planned adjacent urban area of 150 hectares (currently about 26% of the total area filled up)
Term: 50 years (2006 – 2056)
Land legal: Pink book
Technical infrastructure: The industrial park is invested synchronously. Internal roads, rainwater drainage system, wastewater collection, centralized wastewater treatment station 9,000 m3/day, Quang Chau power station 110/22KV, 2x40MVA-22 KV power supply system; water system with a capacity of 10,000 m3 per day and night and a pure water system to enterprise fends; post and telecommunications services, banking, customs, bonded warehouses, logistics services..
Investment priorities: High-tech, accurate machinery, food, etc.
Industrial park orientation: Quang Chau Industrial Park is oriented to be a multi-industry industrial zone, using modern high technology in accordance with international standards and being eco- friendly, expected to attract industries such as: Production of consumer goods, Mechanical assembly, production of spare parts, electronic components, handicrafts, Textile industry, Food processing and agricultural products and some other industries.
Landscape: More than 15% of the total area of ​​​​the industrial park is planted with trees Land conditions: The average leveling height is 9m.  Soil quality: hard leveled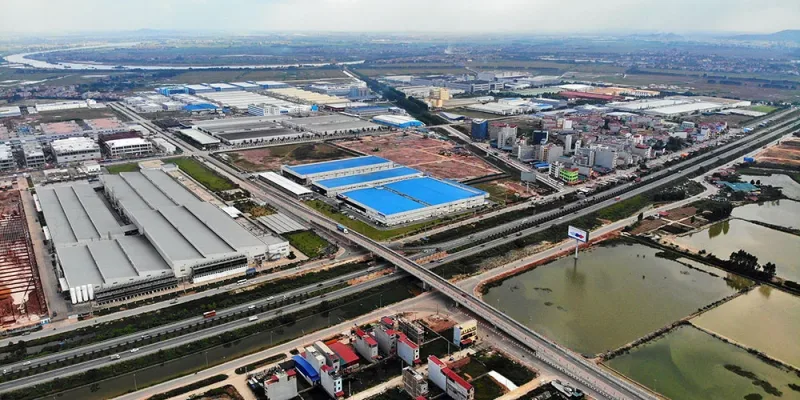 Internal traffic system: The main roads in the industrial park are 32 m in width – 4 lanes + Branch roads in the industrial park are 23 m in width- 2 lanes. All internal roads are designed and constructed in strict compliance with national regulations, and finished with Asphalt. The internal roads are also equipped with a complete, aesthetic high-pressure lighting system
Power supply is from Pha Lai – Bac Giang 110 kV double circuit National Gri. Quang Chau IP is expected to construct a 110 KV Quang Chau station (110/22KV – 2×40 MVA) to ensure adequate supply and stable production.
Quang Chau Industrial Park is completely equipped with modern surface drainage, sewage system leads to wastewater treatment plant with a capacity of 20.000m3/day.
Water and waste treatment system: Waste water is collected to the wastewater plant of the industrial park to meet water standard B (QCVN 40:2011/BTNMT) before being discharged to the general system of the industrial park.
The wastewater plant was built with a treatment capacity of 18,000 m3/day – night
Waste is contracted by factories in the industrial park to classify, collect and transport garbage out of the industrial park to avoid causing environmental pollution. Exhaust gases of factories are installed with national standard filtration systems before being discharged into the natural environment.
Communication system: the industrial park is installed with an underground communication cable system and is provided to the fence of the factory by an international standard cable system.
Quang Chau Industrial Park located in the architectural Industrial Park – Urban – Service with modern and synchronous infrastructure. It is estimated that total capital requirement to construct the urban area with residential housing for professionals, workers and other public facilities is 1,000B VND. Quang Chau Industrial Park will offer extensive care for professionals working in the industrial park as well as complete production line from transporting raw materials, fuel for the storage of goods, import procedures. The industrial park is capable of receiving 200 factories and ensure stable jobs for about forty thousand workers. Besides, Quang Chau new urban area is also invested with modern public services infrastructure systems such as hospitals, schools, sports complexes, golf yard, commercial centers, supermarkets, restaurants, hotels, amusement parks …
Fire prevention and fighting system: the industrial park is installed with a warning, prevention and fire fighting system in strict compliance with national regulations. Fire hydrants are installed at the internal traffic hubs, and at all factories to ensure effective protection of the whole area from fire and explosion incidents.
Management fee: Industrial park management fee: $0.30/m2/year. This fee is paid annually in the first month of the year. Fee for using clean water: 10,000 VND/m3 (excluding VAT). Waste water & solid waste treatment fee: According to regulations of Provincial People's Committee and Industrial Park Management Board
Electricity fee: Mid-peak hours: VND 1,405 /KW; Off-peak hours (22:00 – 4:00): VND 902 / KW; On-peak hours (9:30 – 11:30 & 17:00 – 20:00): VND 2,556/ KW