I. Tien Son Industrial Park overview
Address: Tien Son Industrial Park – Tien Du District, Bac Ninh Province.
– Tien Son Industrial Park was established in 1998 and officially launched to the market since December 22, 1999. Tien Sơn industrial park is one of the first industrial parks in Vietnam which is built synchronously with urban areas, housing and social infrastructure services.
– Tien Son Industrial Park is developed by Infrastructure Investment Development Company (Indeco), which is a state enterprise and a member of the Glass and Construction Ceramic Corporation (Viglacera).
– Scale:
+ Total investment capital in infrastructure: 837.5 billion
+ Planned area: 449ha (Phase 1: 1999 – 2049, Phase 2: 2006 – 2056)
(The Industrial Park was occupied 100%)
– Tien Son Industrial Park has a prime location, which is about 11 km from Bac Ninh City, 30 km from Noi Bai Airport, 22 km from the center of Hanoi capital, 120 km from Hai Phong seaport, 120 km from Cai Lan deepwater port (Quang Ninh), 136km from Viet Trung Border Gate (Lang Son Province).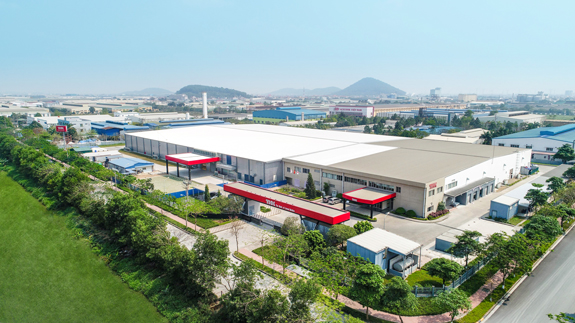 II. Infrastructure and services
1. Internal transportation system
– Internal transportation system accounts for 15% of the total industrial park area.
– Reinforced concrete; main road width: 37m; Sub-road width: 28m
– Pavement width: 6m
– High pressure lights are well-installed along the roads.
2. Power supply system
– Power is supplied from national grid through 110/22KV (35KV) transformer station with capacity of 1x40MVA and 1 x 63 MVA.
– Enterprises may choose to use medium voltage or low voltage depending on their demand.
3. Communication system
Bac Ninh Post Office has established a branch in Tien Son Industrial Park center with international standards to meet all communication demand of the enterprises in the industrial park.
4. Water supply and drainage system
– In Phase 1, Tien Son Industrial park established a groundwater treatment plant with the capacity of 6,500m3/day.
– In the next phase, Tien Son Industrial Park will continue to build more 1-2 groundwater treatment plants with equivalent capacity.
– Rainwater in the industrial Park flows through drainage systems and then flows into Duong River.
– Waste water treatment station is available with the capacity of 4,000 m3/day.
– Solid waste from the factories is collected and categorized before being buried in a landfill for disposal.
5. Fire prevention and fighting system
The industrial park is installed with fire prevention and fighting system in strict compliance with national regulations. Fire hydrants are installed at the internal traffic hubs, and at all factories to ensure effective protection of the whole area from fire and explosion incidents.
6. Other public utilities:
– Logistics center: The industrial park spends approximately 2 hectares for warehouse system to meet the needs of storage, customs and goods transportation of all enterprises.
– Social infrastructure: Tien Son Industrial Park spends 24 ha which is located right next to the Industrial Park to provide housing, condominiums, hospitals, clinics, service centers, schools, amusement parks, supermarkets, sports complexes … for staffs/experts working in the industrial park.
III. Rental price and tax incentives
Term: The operating period of Tien Son Industrial Park is 50 years from the day its Investment certificate was issued.
In the process of leasing land, investors can sublease or re-transfer to other investors.
Industrial park fees:
+ Land rental with infrastructure: 80 USD/m2
+ Clean water fee: 0.4 USD / m3
+ Waste water fee: 0.28 USD / m3
+ Management fee 0.5 USD / m2
Incentives for investors.
Investors in Tien Son Industrial Park in Bac Ninh will be granted investment certificates, business registration, and enjoy a number of incentives:
+ Corporate income tax exemption is applied for enterprises in the first 2 years.
+ Corporate income tax is reduced to 50% for the next 4 years.
+ Investors are promptly provided with free guidance and support from Viglacera regarding investment license application procedures and post-investment licensing procedures such as: Investment certificate application procedure, personnel registration procedure, tax code registration procedure and seal registration procedures …